Look your best
Our expert hairstylists and makeup artists can do the job.
We realize that makeup artistry and hairstyling is not about concealing your physical beauty but to enhance it.
Our job as makeup and hairstylist is to enhance the natural appearance. We want to bring out all your best features so you will look your best for that wedding, prom, bat mitzvah, photoshoot or a night on the town.
As a professional makeup artist, we strive to make every client feel proud of how they look and make their day uniquely fantastic.
The types of hair and makeup services we provide to our clients are
Weddings – Quinces – Bat Mitzvahs
Photoshoots (Engagements, Family, Maternity, Head Shots)
Nights on the Town
Prom
Makeup Classes – Private Lessons
Wedding Hair and Makeup Services
Benefits of Hiring Us for your wedding
Organized and Efficient
Experienced – Over 20 years
Quality Products
Trials Available
On-Location Services
We Can Come to You
Five Star Rating
Ok.. Your wedding day is coming up, and you want to look AMAZING!!!
Your wedding is number one
When you hire our makeup artist and hair teams your wedding becomes our number one priority. We know how important it is to you, so we strive to take the extra effort to keep everyone calm, collected and happy.
Our team is up to date on all of the trendiest wedding makeup looks, as well as the newest braided hairstyles or updo designs that you can find in a magazine or Pinterest. Our wedding hair and makeup costs are very reasonable compared to competitors cost.
For more information check out
TV and Film Production Shoots, Photoshoots, and Professional Headshots
Faces by April's makeup and hair team is equipt to handle your TV, film or photography makeup and hair looks of any genre.
We provide hair and makeup for on-location production shoots in all of South Florida.
Our best makeup artist and hair service teams can assist with commercial productions as well as hair and makeup photoshoots for
Engagement
Maternity
Boudoir
Family
Mother-daughter
Professional Headshots
One of the most notable mountains to climb when being part of photoshoot or tv and film production is to get the theme or vision of what the photographer is trying to portray.  Since our team has worked with numerous photographers, it is now is second nature to us and is a real time-saver to the client.
If makeup and hair are terrible the photos will be too.
Our team of makeup artists and hairstylists will work with you to make the look that you are trying to portray. If the makeup and hair look is terrible or unfinished; ultimately the overall look in your images will be the same result.
We can elevate this stress to ensure a better outcome.
Please contact us for day rates for your next project.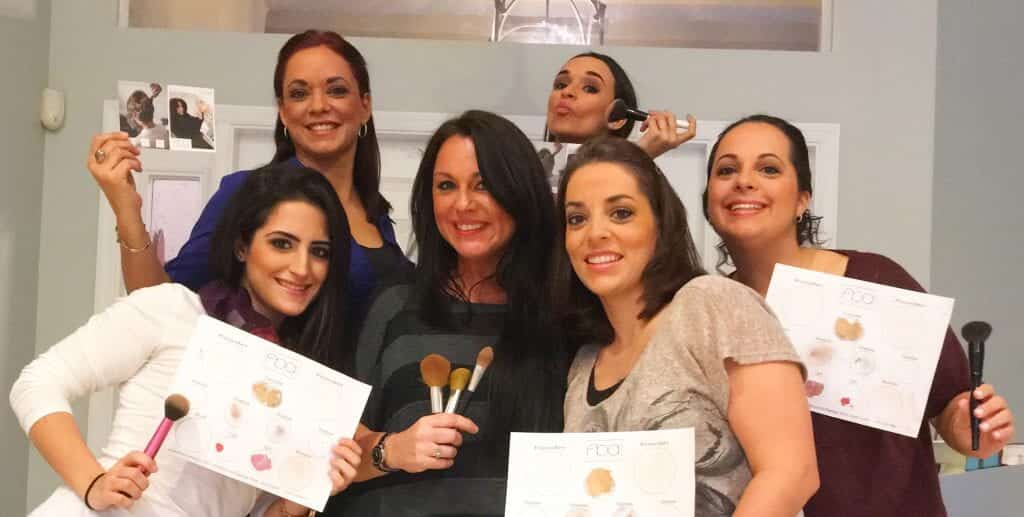 Makeup Classes
When you book makeup classes FBA Cosmetics you are getting personal one on one attention.
April will help you create your perfect look whether that is a basic face or a red carpet event look. Using April's professional direction, April makes each of her makeup classes fun and not intimidating. Enjoy a glass of wine, espresso or a refreshing glass of sparkling water or champagne while you learn how to take your new look and expertise to the next level. We want to show you how to make all skin types look flawless and fabulous in no time.
Check out our Makeup classes page for more info or contact us to set up an appointment.
Our passion for makeup and hair gives us the motivation to share our beauty makeup and hair tips with all who will listen. We hope that we become friends and your goto hair and makeup service team.

Our ultimate goal is to keep you as a happy client, one who in return, loves bragging to all of your friends about the gem of a makeup artist you found.